It's Monday.
Not my favorite day of the week. But I am playing along with The Book Date with What are you reading Monday?
Last week I read…
Tomorrow, When the War Began by John Marsden. This filled my required reading form another country for the Mother-Daughter Reading Challenge. This is a dystopian YA. Think Red Dawn in Australia. I was surprised at how much I liked it.
  I also finished Later Gator by Jana Deleon. This is book 9 in the Miss Fortune Series. Let me just say, "I love this series." It is fast and funny. The characters are crazy funny. Just read it. This is one of the few writers where I will pay full price to read their books. At the moment I'm all caught up on the series, but I'm sure there'll be a new one out before too long.
What I'm reading now…
I just started Bitter Harvest by Wendy Tyson. I've been dying to read this cozy, mainly because of the cover. I love pumpkins. It looks like a vintage seed packet.I won this book from a contest from Henery Press. I've only read 20%. So far a man has been found dead and the small town is getting ready for it's first Octoberfest. Who killed the victim? I don't know. But there's a hot Scottish vet 😉
What's up next…
I have two books I hope to read. I'm not sure which is first, depends on which is easier to hold with a cast.
Wandering Island by by Kenji Tsuruta. I needed a graphic novel for the Mother-Daughter Reading Challenge. That's not something I normally read. I did a little searching online and found this book cheap. I was surprised when I opened it that the book opens backwards. My children laughed at me and said, "Of course. It's Japanese. That's how they read."  Anyway… this one is about a girl who delivers packages from her airplane. Until she get's a package she can't deliver becasue she can't find the island. Sounds interesting.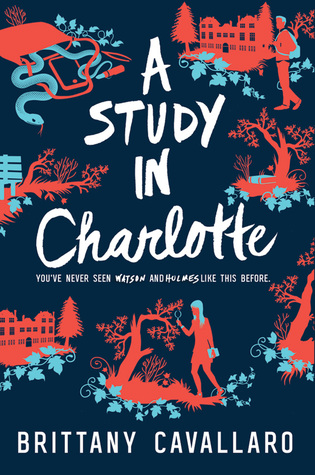 A Study in Charlotte by Brittany Cavallaro. I know nothing about this book other than it is a new retelling of Sherlock Holmes. This time it's Charlotte Holmes. I can't wait to give this one a read.
What are you reading this week?
-CK