It's Monday! For good or ill the new week is here. Which means it is time for…
Besure to check out the Book Date blog!
Last week I read…
I finished 3 books. The first was Bitter Harvest by Wendy Tyson. It was chosen by he cover. I'm a sucker for pumpkins. We tried growing them once. They about took over the yard. Much like watermelons! It was entertaining but i did't enjoy it enough to read furthur in the series. The writing & story were fine, it just wasn't for me.
I also finished Wandering Island by by Kenji Tsuruta. I needed a graphic novel for the Mother- Daughter Reading Challenge. The size is misleading because it is mostly pictured 😉 I enjoyed it. The drawings were great. It did suffer from too much skin showing, but I'm not he target audience. I was a bit miffed at the cliffhander ending– but no enough that i don't look for book 2.
The last book I read was one I picked up on vacation, also heavy on pictures. Weeki Wachi Springs by Maryan Pelland. A visual read through the history of the vintage mermaid park. I loved it. The photos and stories behind them were very entertaining.
What I'm reading now…
I have plenty of reading time at the moment. I've started 2 books. One is a librbay book and the other is a new release i bought on my kindle. I haven't read enough of either to have an opinion so i will leave the blurb from goodreads.
See by Lee Ann Ward
Carlie Henson is pretty, popular, and an All-American girl. She has a gorgeous boyfriend and a mother who lives to keep her safe. Probably because everyone is drawn to Carlie…including the murderers she has the ability to identify when she looks in the eyes of their victims.

Keeping Carlie's secret is pretty simple when all she has to do is avoid dead people. But when a cheerleader at her high school is murdered and the killer seems to have gotten away with it, Carlie knows what she has to do. With the help of her boyfriend, Dillon, she devises a plan to see what she must, no matter her personal safety.

But when Dillon is the one who's injured in the showdown with the killer, Carlie vows to never help anyone again…until the next young woman attacked is her best friend, Jenna.
I also started, The Long Goodbye by Raymond Chandler
Marlowe befriends a down on his luck war veteran with the scars to prove it. Then he finds out that Terry Lennox has a very wealthy nymphomaniac wife, who he's divorced and re-married and who ends up dead. And now Lennox is on the lam and the cops and a crazy gangster are after Marlowe.
What's up next…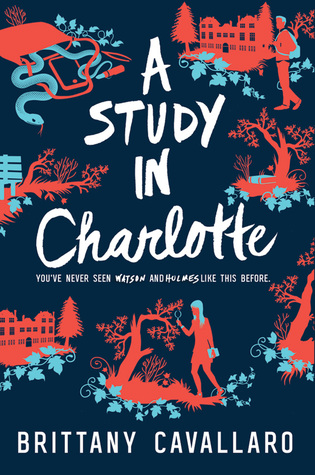 A Study in Charlotte by Brittany Cavallaro. I know nothing about this book other than it is a new retelling of Sherlock Holmes. This time it's Charlotte Holmes. I can't wait to give this one a read.
What are you reading this week?
-ck