Shelf Control — an original feature created and hosted by Bookshelf Fantasies.Shelf Control is a weekly celebration of the unread books on our shelves. Pick a book you own but haven't read, write a post about it (suggestions: include what it's about, why you want to read it, and when you got it), and link up! Click here for more info.
I have too many books I haven't read. So this is the perfect meme for me.
One of my goals this year is to read the books I have instead of buying new books. That lasted about a week.
I made the mistake of going to the annual used book sale of the public library. My TBR shelf has now grown to include an entire bookcase…in the hall because I ran out of room in the living room. Don't get me started on my kindle.
Today's book I hope to read this year.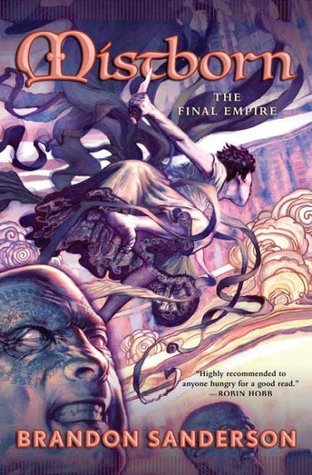 Title: Mistborn
Author: Brandon Sanderson
Published: 2006
Pages: 657
Synopsis: from Goodreads
In a world where ash falls from the sky, and mist dominates the night, an evil cloaks the land and stifles all life. The future of the empire rests on the shoulders of a troublemaker and his young apprentice. Together, can they fill the world with color once more?
How I got the book: I actually bought this paperback new. Shortly after that my daughter stole it and placed it on her shelf. When I rescued it for her I noticed she stamped her name inside the front cover, marking it as hers. 😉 I guess she wants to read it too.
When I got this book: I think I bought it a year, maybe two, ago. It's been a awhile.
Why do I want to read this book:  I've been told by several people that this is one of the best books…ever. It's also on my list of top 100 fantasy/sci-fi books to read. I check them off as I go.
If you want to participate go to Bookshelf Fantasies and add your link to the linky.
What book on your shelf so you need to read?
-CK