Today is a WWW Wednesday. A weekly meme originally started by Miz B but now hosted by Taking on a World of Words.  
Feel free to join in the fun and let the world know what you are reading.
The Three Ws are:
What are you currently reading?
What did you recently finish reading?
What do you think you'll read next?
What am I currently reading?
My bedtime book is:
  Sugar and Iced by Jenn McKinlay Book 6 in the Cupcake Bakery Mystery Series. As with most cozy books, it's a light read. I'm almost halfway through it.  This is not my favorite series by McKinlay but it is good entertainment.
My kindle read is: 
The Christie Caper by Carolyn G. Hart Book 7 in the Death on Demand series. This is also a cozy but of a totally different feel. There's none of the fluff of the "newer" cozy series'. Instead it is closer to the traditional mystery. I've only read a few books by Hart and when I pick one up I'm rewarded with smart, capable female protagonists and amazing writing.
What did I finish reading?
Shades of Blue by Joyce Scarbrough
JoJo and Sam have been best friends since he moved in next door when they were five years old. JoJo has always liked the ways Sam is different from other boys, but now that they're both 14, he's changing in ways she's not so sure she likes. Just when she thinks she's getting used to his new muscles and the way other girls are looking at him, she sees the bruises on his back and knows his step-father is beating him. JoJo tries to get Sam to leave, but he says he can't desert his mom and step-sister. He makes JoJo promise not to tell anyone or he'll be sent away to live with his grandmother in Tennessee. When Sam's mom witnesses the abuse for herself, she finally stops drinking and stands up for all of them, but that's when Sam's step-father turns deadly.
An emotional rollercoaster! I loved it.
What am I reading next?
Up next: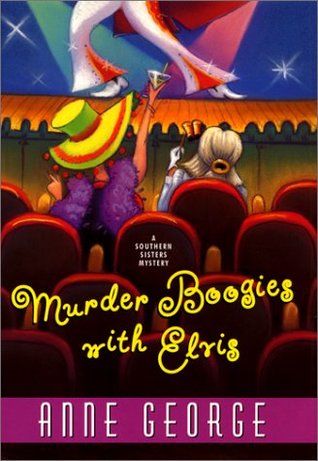 Murder Boogies with Elvis by Anne George, Book 8 in the Southern Sisters Series. I picked this up at the library used book sale (along with a hundred others!). How could I not? The title alone is reason enough to read it.
There you have it. There's only 3 1/2 weeks left of school. Soon I will be surrounded by teenagers interrupting my reading. Sigh.
What are you reading?
-CK